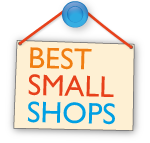 I am intrigued by a new post on our local MP, Matthew Offord MP's website. He is urging local small shops to participate in a best small shop competition run by Indie retail.
I am all for anything that raises the profile of small businesses in our locality and urge as many business owners as possible to participate. There are some brilliant shops in and around the constituency of Hendon and in the wider London Borough of Barnet area. It is my view that small, independent shops are always more interesting than large conglomerates.
Here is what Matthew has to say (
Click here for his press release
)

"Matthew is calling on Hendon's small shopkeepers to enter the Best Small Shops Competition, celebrating the creativity of small shops and the central role they play in their local community.

The Best Small Shops Competition is open to any small shop operating in the UK. The competition is free to enter and all shops who enter will also be promoted to consumers through an online Indie Retail Directory.

Shopkeepers can nominate their businesses until Sunday 9th September via www.bestsmallshops.co.uk. A shortlist of 25 of the most impressive applications will be shortlisted by a panel made up of established representatives from the independent retail industry.

The judges will be looking for evidence of a small shops' entrepreneurial spirit, ways that they have been innovative in their business and what they have done to have a lasting positive impact on their community.

The shortlisted small shops will be invited to a Parliamentary Reception on the 13th November 2018 to meet their Member of Parliament and find out who will be crowned the Best Small Shop for 2018.

Matthew said: "Small shops are the lifeblood of our high streets across the Hendon constituency and I would encourage all small shops owners to take part in this competition and I am positive that Hendon can produce a winner."
The Barnet Eye is keen to support Matthew in his efforts to promote small businesses. As far as we can recall, this is the first mention he's made of small shops since 2010, when he expressed a desire for Mill Hill Broadway to become the "
type of place people would come to if they wanted to open a specialist cheese shop
". It is good that his support now encompasses the whole small business sector.
I've entered
Mill Hill Music Complex as we have a very successful retail business supporting local musicians
. I really hope that if we don't win, another local business does. In February,
I compiled a list of my top five food retailers in our locality