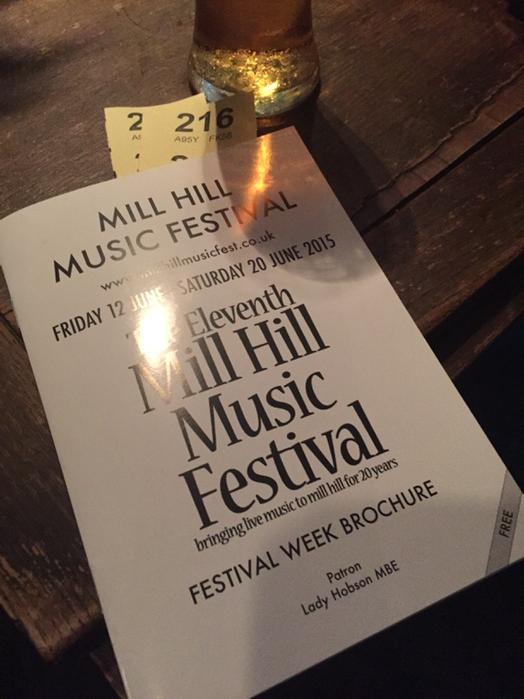 Want to run a local music festival? Here's how
Anyone ever wonder what you have to do to stage a local music festival? We are not talking about Glastonbury or Reading, we are talking local with several venues of audiences of 100-400 people in local venues. Having been doing this in Mill Hill for the last 12 years, I guess now is a good time to write down how we did it and when we did what. Of course, this is my take on it. The rest of the committee may take a different view, but here is a rough plan for the ten months leading up to the festival and all of the things you will find yourself considering if you want a successful event. For the Mill Hill Music Festival this year we had 13 events over nine nights at eight different venues.
This is a rough plan, the dates are approx. We hope this comes in useful for your planning. As you can see, there is probably a bit more to it than maybe you thought. There are also plenty of bits missed out, small details that matter, which I have forgotten!
July 2014 - convene the committee, see who is up for doing it. Ideally you need about ten people on the committee to have enough people to cover everything. We don't have a chair as such, just the following roles which we cover
1 x treasurer
1 x Web/PR/design
2 x Logistics
2 x Bar/catering
2 x Alcohol licensees
10 x Leafletters
2 x Programme advertising sales person
1 X Insurance and legalities
2 x Ticketing
2 x Mailout
3 x Mailing list verification etc
2 x Technicians
1x Carpenter/ builder
4 x Lugger/roadie/general dogs bodies
We also decide when we will have it. This is key and it is important to do this before the summer holidays so people can keep the space clear for the following year in outr diaries. The MHMF always avoids (or tries to) major football tournaments, Wimbledon and The Rugby World cup. All of these type of events will mean people are not going out. Having decided to run the festival, the next job is to secure venues. If the venues are unavailable, then no festival. this process start in July but will go on for a period of months. We make up a wish list of venues and then get to work, if we want a specific band for a specific event, we may also start making enquiries. We will roughly work out how many days we want to do and start/end dates.
September. We have another meeting. This is to review progress on venues and to start pencilling in events. We try and work out a draft program and then fill in the blanks. We also start discussing how we will approach publicity and any lessons learned from previous festivals (this is where my festival diary comes in handy). Another important item is a draft budget. We have a surplus from the previous festival, which pasy for pre festival costs. These have to be managed with available funds.
October. This is another review meeting and one where we discuss deadlines. This is deadlines for venues, acts and publicity material. Dan who does the program and website likes to get all of this sorted by the end of January, however it often drags into February or March before all details are finalised.
November. By now, artists and venue details should be largely agreed. Often there will be a wishlist of artists and there is hot debate about these. In our festival various members take responsibility for organising particular events. We need to know which events need bars etc, and who will run them,.
We don't meet in December, so as the next meeting will be January, when the DL program will be required, the following tasks are usually allocated to committee members and deadlines agreed. We also need to agree ticketing details and where/how we are selling them.
- DL programme :
- get preliminary copy from respective acts and groups
+ high res images together
-
edit copy and crop images for use in DL programme design
- liaise with all necessary parties to ensure everyone is happy with the copy
We also need to workout a draft budget and prices for events. To work out prices, we also need to know the artist costs, hall costs and other costs.
January. The January meeting is largely about agreeing the DL draft based on the tasks above. We will also make a more detailed plan, allocating people to do such tasks as arranging insurance, allocating a committee member to book TEN licences etc. We will also consider the high level logistics of the various gigs. This is more at a level to ensure that we can logistically support the events, rather than detailed plan.
Februrary. If all is on schedule, this is largely about planning the logistics of the advertising campaign. Who will print envelopes to mail DL's, validation of mailing list. Where and when we'll leaflet. How we'll approach papers etc and when
Agreeing all details for website (largely the same as the DL's). There is also the issue of printing DL's
DL programme.
- go through DL programme with printers
- pick up programmes from printers
Website
- Website:
- full design of website
- create and develop website
- add content to website
March.
This is when we will start mailing DL's to our mailing list., We also hand deliver leaflets to Mill Hill areas. We also start working on other publicity such as posters etc and selling advertising for festival week programme. The website will also be finalised.
- Posters:
- design and create various posters for general events and individual events
- distribute posters to venues, libraries and other places with programmes
We need to get tickets prinred and the box office sorted. We are lucky to have Mill Hill Wines in the Broadway as our box office. We also sell via Paypal on the website.
- PayPal:
- set up PayPal sell buttons and incorporate into website
- Posters:
- design and create various posters for general events and individual events
- distribute posters to venues, libraries and other places with programmes
Other tasks include
Design and get Tshirts
April.
This is all about logistics. Ensuring nothing is missed and there is a full plan. Items that we need to get in the plan
- Insurance
- TEN licences
- Band riders/requirements (eg piano tuners)
- List of advertisers & draft programme for festival week
- finalised budget
- Leafletting plan
May.
This meeting is all about details. Although much of this will already be ageed in draft, the following must be agreed in May
- who will run PA/Lights
- Who will run bars
- Who will man doors
- Who will Put banners etc up (this alone takes a couple of days of 2 peoples time)
- Who will manage ticket sales thru various outlets.
- Who will liaise with venues in run up and on day
- Who will manage artists site visits
- Which PA system we will use
- Which lights will be used
- Whichvans we require and when
- Who will run raffles and how will we secure prizes
- Ensure any deposits booked
- Make arrangements for any equipment hires
- Send out press releases
- Book hire gear (inc cable ramps etc as required)
- Ensure all staging requirements are identified and covered
- Ensure local listings and local radio contacts identified and press releases sent
The TEN notices need a minimum of 10 working days, so they must be applied for in May for a June festival.
June
The festival is upon us. It should be as simple as executing the plan! However local press needs chasing up, liaising with venues, watching weather forecasts for outdoor gigs (and making sure gazebo's are available). It is also worthwhile making tactical PR initiatives, such as calling shows such as BBC London, if they are publicising local events.
And that my friends is that. How you plan a local music festival. The actual events are the easy part!
(Thanks to Dan Bleich for his input on this blog)