So here without further ado, is the hit parade of the Barnet Twitterattiiii !!!!!
1. I don't agree with dear old Brian about much, but I whole heartedly agree with him on this
Never could stand Andy Murray , dour , boring ,petulant and now politically naïve as well
2. Brians nemesis is doing her bit for peace and love in North Finchley
Sunday is world peace day so in North Finchley were celebrating. We have live music food scavenger hunt for kids AND
@
_MrMustard
in buzz
3. A truly shocking bit of anti semitism in Borehamwood. I seriously thought we'd moved passed this in our neck of the woods.
4. It's time to party in Burnt Oak !!!!
5. Mr Mustard finds perhaps the worst answer to a question ever by a Leader of @Barnetcouncil
I doff my cap to the "leader" of
Barnet
Council Richard Cornelius. He has become fantastic at avoiding the question
pic.twitter.com/POI4bXHgu0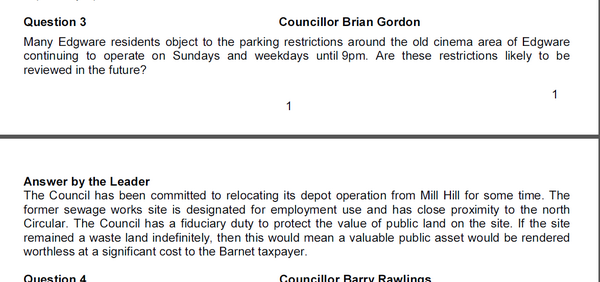 6. Many thanks to Nick Goldberg for this picture. I don't know why but this infuriates me beyond comprehension. I love the Jocko's to death but Hendon Town Hall is no place for their bloody falg to fly.
7. Infuriated by this bunch of Tory chinless wonders gloating about the destruction of @EdgwareTownFc old home. They know the value of nothing
8. John Perivolaris with a fantastic picture of the old Colindale Odeon. Check it out
9. Barnet care workers are on strike
10. Looking for something to do tonight. Come down to the @ChandosArms in Colindale for the Reggae night with Joe Angel and Dubvocaliza.
Do you like Reggae music? Come down to the
@
ChandosArmsPub
on Sat 20th at 8.30pm for Joe Angel and Dubvocaliza - North Londons Coolest !
Thats all folks !!! Hope there was something there of interest