Christmas is coming. This is the time of year when we all spend loads of dosh. The easy thing to do is to jump in the car and give it all to the multiples in Brent Cross. We do however have local high streets. They really need your support.
Back in 2010 when Matthew Offord was seeking election for the Hendon constituency, he made a rather strange promise to a resident of Mill Hill. Whilst canvassing in Mill Hill Broadway, he promised her a cheese shop! I kid you not. I was canvassing on the Broadway at the time and a rather nice lady came up to me and said "The Conservative candidate has just promised us a cheese shop in the Broadway" I was intrigued and asked her "really? What exactly did he say?" She replied "He said that he wanted the Broadway to become the sort of place that it was great to start a business and that he'd love to see small independent traders such as cheese shops open". At the time I thought this was rather funny. As far as I am aware, this was actually the only promise Matthew Offord made the people of Mill Hill. As the saying goes, he had one job.... Matthew we want our cheese shop!!! I was reminded of this as I walked down the Broadway this morning. There are currently eight empty premises on the Broadway. I was inspired to tweet pictures of them.
— Roger Tichborne/RogT (@Barneteye) December 4, 2016
— Roger Tichborne/RogT (@Barneteye) December 4, 2016
What were those buildings?
Well we've lost two banks. HSBC and Lloyds have pulled out. This is a disaster for local businesses and traders. Whilst most personal banking is now done on line, businesses need tp pay in/withdraw cash on a daily/weekly basis. Both HSBC and Lloyds have concluded that there are not enough cheese shops and other independent traders needing banking services to bother with the Broadway. Then we have Dominico's, Sappori D'Italia, Half Full and The Day of the Raj (the Raj now runs as a takeaway business from Mill Hill East if you are missing Romels cooking). These were all restaurant/Cafe Bars. The Day of The Raj in particular was a highly successful restaurant, winning many notable awards. It had to close because changes to employment legislation and immigration rules, meant that they could no longer get visas for highly qualified, specialist chefs. Although the restaurant was packed every night, the owner could not get the staff required to run the operation. This is being mirrored in Indian restaurants all over London. Mill Hill's other Indian, The Mill Hill Tandoori is only hanging on because Lemon, the Owner doubles up as chef, delivery driver and waiter and does the job of three people. So much for small businesses being supported. The other restauraunt/cafe's were also independently run and suffered from the effects of competing with large chains. The final two shops were independent traders, both selling sports gear in their final incarnation. I see that one is turining into another nail bar (just what Mill Hill needs!). The other has "let agreed" posted. I don't know what this will become.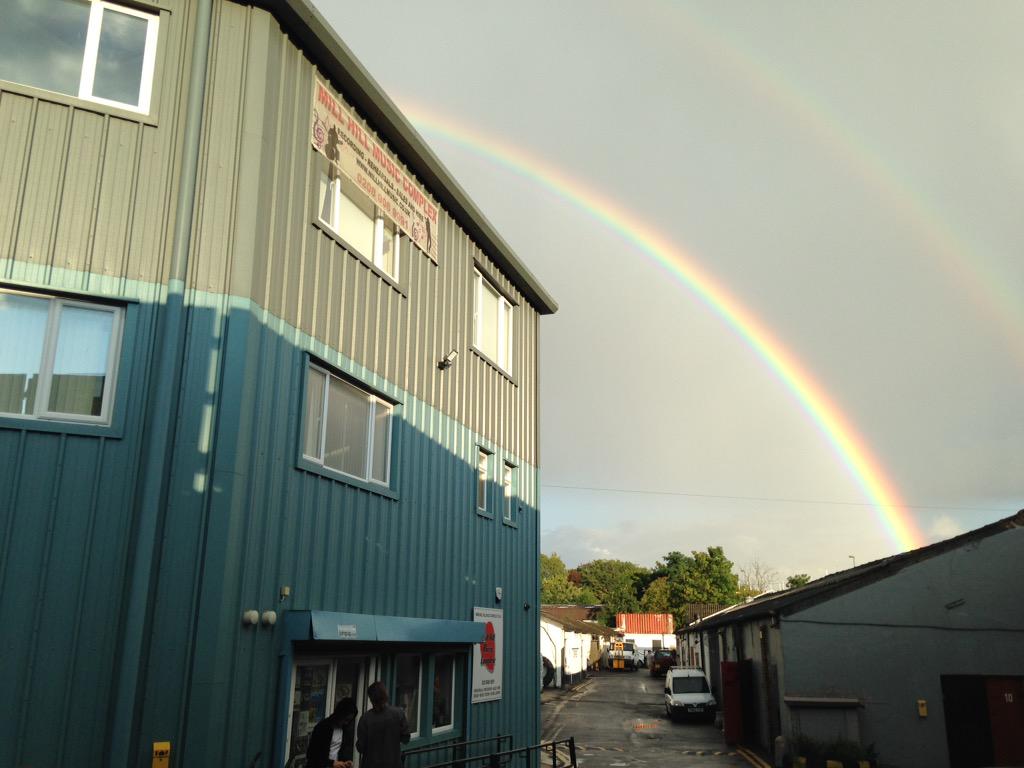 Mill Hill Music Complex in Bunns Lane
The good news for anyone wishing to open and independent cheese shop is that there is property to let in The Broadway. If you want to move in, this blog will support you to the hilt (this is true of any independent trader). The Mill Hill Neighbourhood forum is working tirelessly to try and promote Mill Hill. We do have some great independent traders, most notably Mill Hill wines,
Cooksleys butchers
and A&Y Locksmiths. If you need Jewellery,
Rockman is an excellent place to shop, it is the only place I buy Clare such presents from
. The Broadway Cafe does a mean bacon butty, there are several ladies fashion shops that do fine clothes and Princess Daisy is a well established flower shop. If you are taking a train from Mill Hill Broadway and you have a minute or two, please buy a coffee or tea from the kiosk on the station. During the week I received some harsh criticism on twitter from a certain local individual who felt I shouldn't promote my own business on my blog (for reasons I really cant' quite fathom, other than he seemed to think I should only promote everyone else). I rather disagree and if you need musical instruments, books and gifts in the coming weeks, at
Mill Hill Music Complex, we sell em
!
El-Vaquero
There are also a few other "off Broadway" local Mill Hill Businesses I really would like to give a plug to. For many years following a car accident, I've had chronic back problems. six years ago, I was advised to have surgery, but this would require twelve weeks in bed and probably end my football career, so I decided to live with the pain and try and manage. As a result, I have been aided no end by Osteopath
Dominc Eglinton
. I also have regular
Thai massages from Siam Sanctury
, which helps keep me moving. If you are a meat eater and you want a truly amazing feast, check out
El Vaquero Argentinian restaurant in Hale Lane
.
Finchley Nurseries and Pond Life
With the Festive season approaching, you may want a Christmas Tree.
Finchley Nurseries in Burtonhole Lane have a great selection
. As well as the usual garden supplies etc, they have a small tea room and sell organic fruit & veg. They also hold events throughout the summer with the Barnet Band regularly playing.
There is also a gem of an aquatic centre on site called
Pond Life
. They sell coldwater and tropical fish. They also provide maintenance and servicing of ponds etc, as well as supplying pumps, filters etc.
Another real gem has recently opened in Mill Hill East. This is
Elias Fishmongers
. They do wicked Sea Bass, great to bake in the oven with Tomatoes, capers and olives.
I happen to believe that Mill Hill is a great place to live. I am saddened by the current recent flight of businesses from the Broadway.
(Rog's note - Please note that contrary to some nasty people, none of the businesses here paid me a penny to plug them. I just do it because I love em and I regularly use their services. If we don't support them they won't survive. Use it or lose it).