As many of these lists do, the germ of this one started listening to the Robert Elms show on BBC Radio London. Robert was talking about going to the Globe Theatre to watch a performance of Shakespeare. Robert stated that this had broken one of his bylaws. He had stated that he would not go to the Globe, because it is fake and a disneyfication of London, aimed to snare gullable tourists (or words to that effect). Roberts view is that by building it in a mock Tudor style instead of glass and concrete, it is not "proper London". Last week we had Clares cousin visiting from Brisbane. She asked me for a few ideas for "authentic London experiences" and asked what I thought of a trip to the Globe. I suggested that there are better and cheaper options.
Here is my authentic London list
— Roger Tichborne/RogT #CTID (@Barneteye) August 19, 2017
1. Stroll around Granary Square, shop in St Pancras station, then get the Thameslink Train from St Pancras to Blackfriars, enjoy the view of the Thames from the station then walk down the South Bank to the Tate Modern.
Whitecross St & Artillery Arms
2. Get some lunch in Whitecross St Market, enjoy it in Fortune St Park, then adjourn to the Artillery Arms for a pint of Fullers Beer (from the Chiswick Brewery). Best street food in town!
3. Do the
Fullers Brewery tour, of the Chiswick Brewery
. I recommend lunch before or after in the adjoining Fullers pub. The Brewery is the last major Brewery in London.
4. Get the Northern Line to Chalk Farm, emerge from the lift and go to see a band at The Roundhouse. I always get an amazing buzz of excitement as I do this.
The Roundhouse is, in my humble opionion, Londons best major venue
.
5. On a Sunday morning nip along to
Bar Italia in Frith Street
, have an Espresso or a Beer and a custard tart, then nip over the road to
Ronnie Scotts for the Sunday Lunch jazz sessions
(you have to book the Jazz well in advance). Cafe Italia sees a large gathering of Mods on scooters on Sundays, which is always fun.
6.Get the tube to White City and make your way to Loftus Road to watch QPR play football. I'm a Manchester City fan for my sins, but QPR is the last proper big unspoilt football ground in London. I love the experience of emerging from the tube and following the crowds to the ground. When you get off the tube, the fact that there is a big stadium around the corner is anything but obvious. I love the smells of burgers and the program sellers. It is not a sanitised ground like the Emirates. Proper football (usually not played very well). They should list Loftus Road and declare it a National Treasure. (for clarity not too keen on Craven Cottage ground. It doesn't feel like a proper stadium to me).
7.
Visit the 2019 Great British Beer Festival at Olympia
. I love Olympia, one of the last great exhibition spaces in London. I daresay there are greedy developers who'd love to knock it down and turn it into flats. The beer festival is an amazing celebration of fine British ales.
8. Visit the Notting Hill Carnival on Childrens Day. It is a nightmare getting there, this year it was a washout, but the Carnival is genuine and everyone should visit it at least once.
9. Do A
London International Ska Festival Cruise up The River Thames
. If you've never cruised the Thames, then you have really missed out. The best form of cruise is a London International Ska Fest cruise. There is one tonight and there are tickets left.
10. Take a picnic up Parliament Hill, for the best view of London. There has been some debate as to whether it is possible to have decent food in a picnic. There are a few basic rules. Don't get sandwiches, as they go soggie. Get pies, sausage rolls and pasties. Drink Red wine, as this doesn't have to be cold (unless you've got a decent chiller bag, in which case G&T's).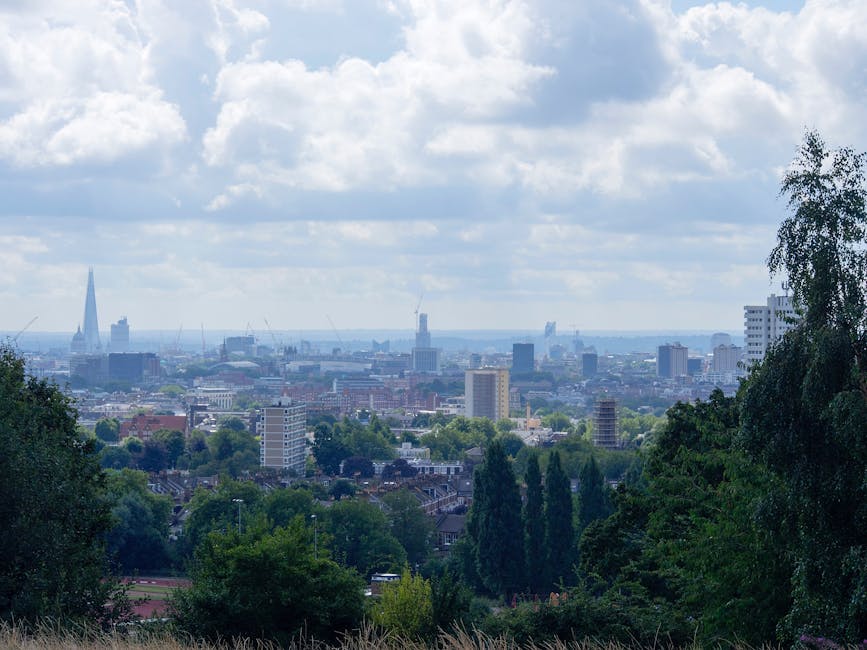 Parliament Hill
I'll leave you with a little story that my Uncle George told me about Parliament Hill. George was born in 1916. His father (My Grandfather) was an Irishman of difficult temperament, who had difficulty in showing affection to his family. Unexpectedly, on George's 18th birthday in 1934 (the family were living in a flat in Lady Margaret Road, Kentish Town), My Grandfather told George to get his coat and he was taking him out and giving him an amazing birthday present. They walked, and walked, all the way. My Grandfather was in unusually good mood (his experiences in the trenches in WWI had badly damaged him). Eventually, they came to Parliament Hill. As they strolled up, George became ever more excited. When they reached the summit, my Grandfather stretched out his arm, pointed to London and said "Son, now you are a man, this is your present, all of this is yours". And so it is, yours to enjoy, the worlds finest playground.