The False Dots at the Save London Music Launch party
Last night we saw the launch of the #SaveLondonMusic campaign at the Fiddlers Elbow. It was a great night with a big crowd, who thoroughly enjoyed four great bands. Many thanks to The Fiddlers Elbow for hosting the night. The Elbow is one of the biggest supporters of up and coming bands and is a vital cog in the London Music scene. London has many such pubs and clubs, but the
number has shrunk by 40% in the last ten years
. The SaveLondonMusic campaign is fighting to highlight the issues facing such clubs and pubs and to fight for some protection from greedy developers. There is all sorts of legislation to protect various sites that we deem important. We protect the countryside with Green Belt legislation and conservation areas. We protect palaces and important buildings of architectural importance with Listed buliding legislation. We protect areas with unique or rare wildlife with designation as a site of special interest.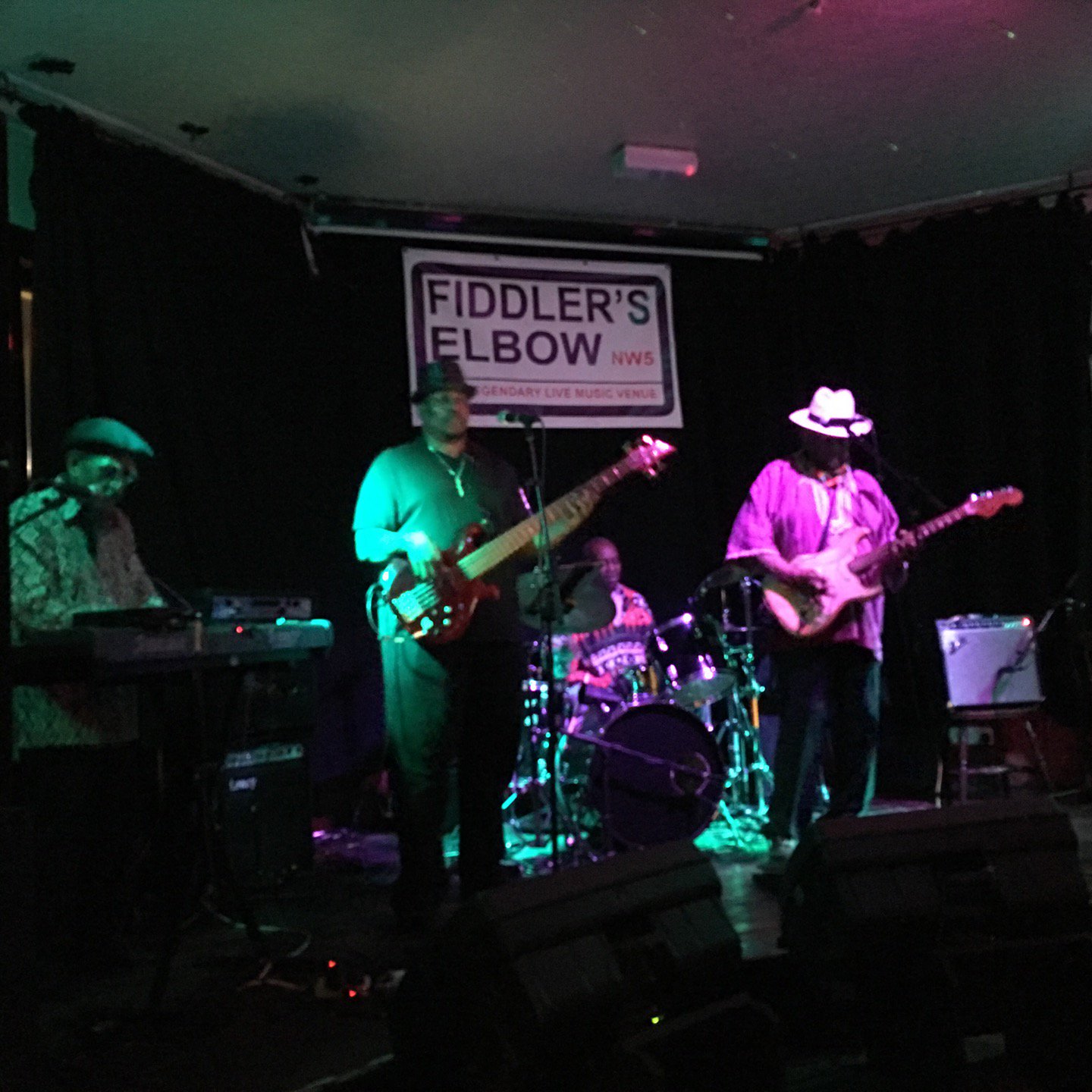 Wendell Richardson and friends
Last night, the mighty Dell Richardson of Osibisa fame headlined and put in a stirling set, having the whole place rocking. The finale was the 1970's worldwide hit "Sunshine day" which saw the whole place rock. Dell is one of the nicest men on the music scene and he has put together a band so hot that the wallse nearly melted!
The show started with the awesome Black Doldrums , a power duo who are building a reputation and a large group of admirers. We suggest you keep an eye out for them. Next up were Hamptons, lead by a great friend of this blog and many people in Barnet, Charles Honderick. They are a truly great band.
A great night. I was priveliged to be a part of it. Please support the campaign and support your local venue. My ambition is that in 2016, we will have a gig at every small pub and club in London under the banner #SaveLondonMusic. We are currently planning this campaign. It won't be easy, but then nothing that matters is ever easy, is it?
Many thanks to John Keough for the greta pics