I had a great night last night I met up with one of my friends and had a great evening. We had a couple of beers in the excellent real ale pub
The Cask
, an excellent real ale pub in Pimlico. We also had couple of beers in the fine Fullers Pub,
the Jugged Hare
on Vauxhall Bridge Road and finished it off with a rather tasty curry at the
Millbank Spice Tandoori
. You may think that this is a rather odd way to start a blog about how marvellous Mill Hill is? Not at all, my friend Keith lives in Croydon, so when we have such an evening we meet in town. Of course Keith misses out on the fine curries available at The Day of The Raj and The Mill Hill Tandoori as he is silly enough to live in South London, but I suppose someone has to!
If you live in Mill Hill you can get to these great pubs in less than 40 minutes, if you get your timings right. I got the 16.43 train from Mill Hill Broadway and walked into the pub at around 17.25 The great transport links are a major reason why I've always lived in Mill Hill. I bought my parents house when my mother decided to retire to Christchurch in Dorset in 1987 after the death of my Father. Mum had always dreamed of living in a nice town by the sea. Within a year, she'd moved back and bought a flat six doors up the road. In her later years she confided that this was the best decision she ever made. When mum hit 60 she got a free bus pass. Every Tuesday, she'd jump on a 113 bus and go on an expedition into London. She'd have tea at Harrods or Selfridges go and sit in the Public gallery at the Royal Courts of Justice, visit Parliament, but be home in time for tea. That is a real benefit of living in Mill Hill. The world is literally on your doorstep.
When Marks and Spencers arrived she said Mill Hill had reached its pinnacle. As an elderly lady, living independently, she was in walking distance from the buses, the train, the doctor, the pharmacy, the dry cleaners, the Catholic Church, an excellent off license and with Marks, if she was feeling lazy she had somewhere to get a tasty meal that could be popped in the microwave. If she wasn't feeling lazy, she'd hop on the 251 bus to Burnt Oak, where she said the mushrooms and the oranges were half the price. She was also rather partial to a nice chinese takeaway and Hees provided this. She was heartbroken when LaCarp d'Or fish restaurant closed down. She loved fish and chips. She said that the period between the opening of Marks and the closing of Carp D'Or was the the ultimate.
Woolworths - sadly missed in Mill Hill
I tend to agree. Mill Hill does miss a good fish and chip shop. Another big loss was Woolworths. All of the family miss it. My wife worked there as a teenager and for the first few years of their lives, every Christmas and Birthday present bought for my children came from Woolies.Every Sunday I'd take them in and let them select some pic and mix (that was the reward for going to Church and being good). My daughter recently told me that this was one of her favourite memories of being little.
The common myth is that Woolies failed because its model was out of date. This is a complete myth. The company was bought by assett strippers, who sold the land and then made the retail organisation lease back the shops at ever more extortionate rates. Had they simply kept the stores, the group would have remained in rude good health. But like everything, times change. Since the Glory days, there have been some very good addition s to Mill Hill.
The Rising Sun
Pub now has become an excellent place to eat. Run by Roberto and Amanda, the food is excellent, the beer is good and the wine list will send you home with a smile on your face.
The Adam and Eve
is also a great place to spend an evening.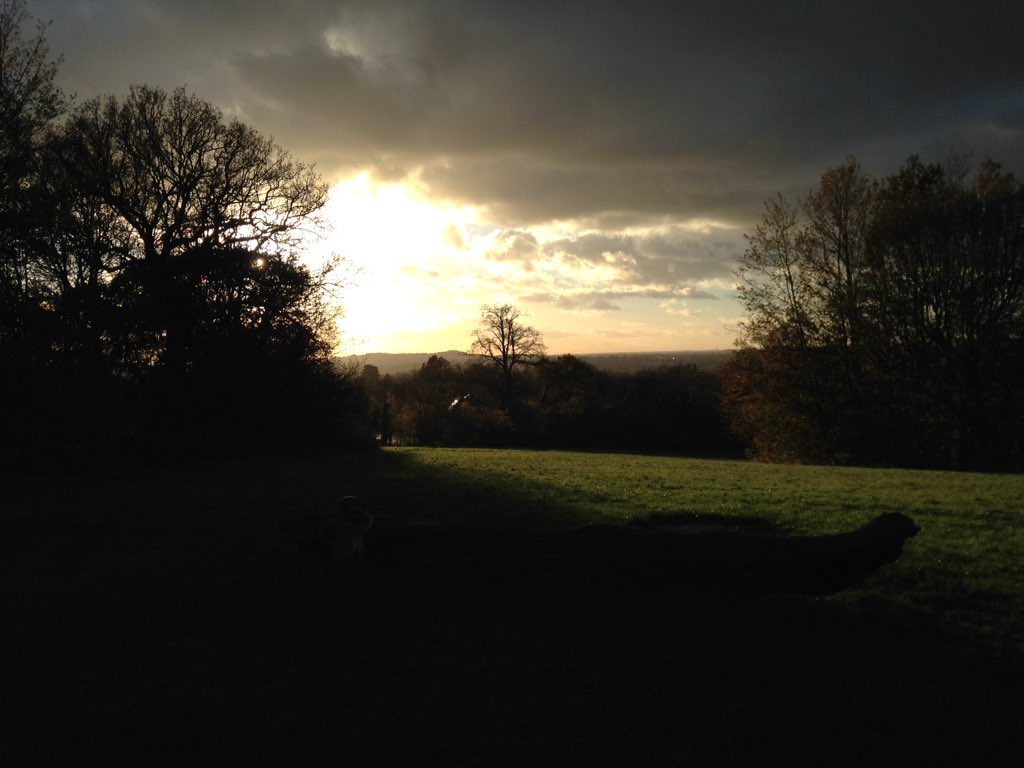 The Glorious view yesterday afternoon from Arrendene looking West
Autumnal views in Mill Hill Park
I specifically mention these two places for a good reason. One of my other passions for Mill Hill is the beautiful Green Belt. When I awake in the morning, If I look West from my bedroom window, I see the M1 motorway and the Thameslink Rail line. If I look east I see St Josephs college in the distance and the Ridgeway. The West represents the great Transport Links, that facilitated my evening last night. The East represented what I did before I went into town. I went with Clare and our two hounds, Tilly and Bruno for a beautiful walk.
This is something we do every day. It is one of my greatest pleasures in life. Yesterday our route took us from Millway, via Mill Hill Circus across St Josephs College fields, through Poets Corner, up the footpath across Mill Hill School fields to Arrendene. We walked through Arrendene and down through Mill Hill Park under the subway, down through the Broadway and back to Millway. The views were absolutely stunning.
Mill Hill - mostly green belt (pic Courtesy Google Earth)
This is one of our most popular walks, but perhaps the best walk of all is to start at the Adam and Eve Pub and have a pint and a bag of crisps. From here, walk down the Ridgway. From here you can walk down and across Totteridge Valley to the footpath by St Pauls School, walk across Totteridge Valley and then walk down Totteridge Lane to the Rising Sun for a great meal and a few fine pints of Ale and a bottle of wine. There are many great walks you do in Mill Hill.
The Mill Hill Preservation Society has a page suggesting several routes
. I'd recommend doing all of these. We do on a regular basis.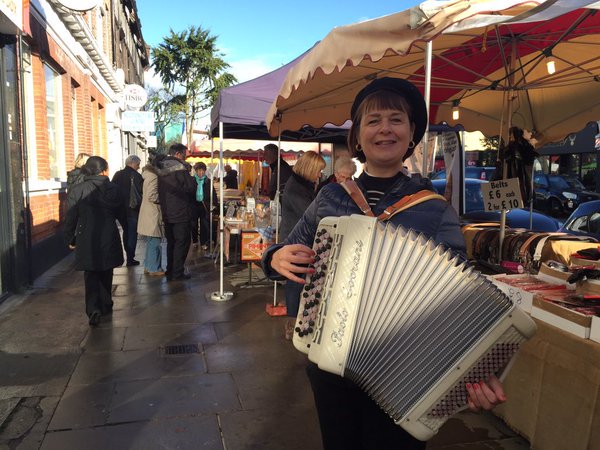 French Market in Mill Hill
Mill Hill is not stuck in the past, but it has a great heritage. We are lucky to have several great organisations which fight for our little patch of London. We have the Pres society (as mentioned above), we have the
Mill Hill Residents Association
. We also have the Mill Hill Neighbourhood forum. The forum organised a French Market last week in Mill Hill Broadway. This was a massive success. The timing, with the Paris attack was a sad coincidence, but the people of Mill Hill turned out in numbers to show solidarity.
I passionately believe that the Green Belt is one of the best pieces of legislation ever passed. There are ever more calls for these rules to be relaxed. As there are ever greater housing pressures in London, these calls will grow. If we listen to these voices the very thing which makes London special will be lost. The Green belt is the lungs of London. We already see appalling air quality. Research shows that thousands of people die due to poor air quality in London, however there is no consideration to this fact in planning applications. I chose to raise my children in Mill Hill because I believe that they had the best of everything, just as I had. They have the great transport links for the hustle and bustle of London if they want it, but they also have the peace and tranquility of the green belt. I believe this is something worth fighting for.