Friday
Jun

e
16
- Time: 7.30pm
The Hendon Band of the Salvation Army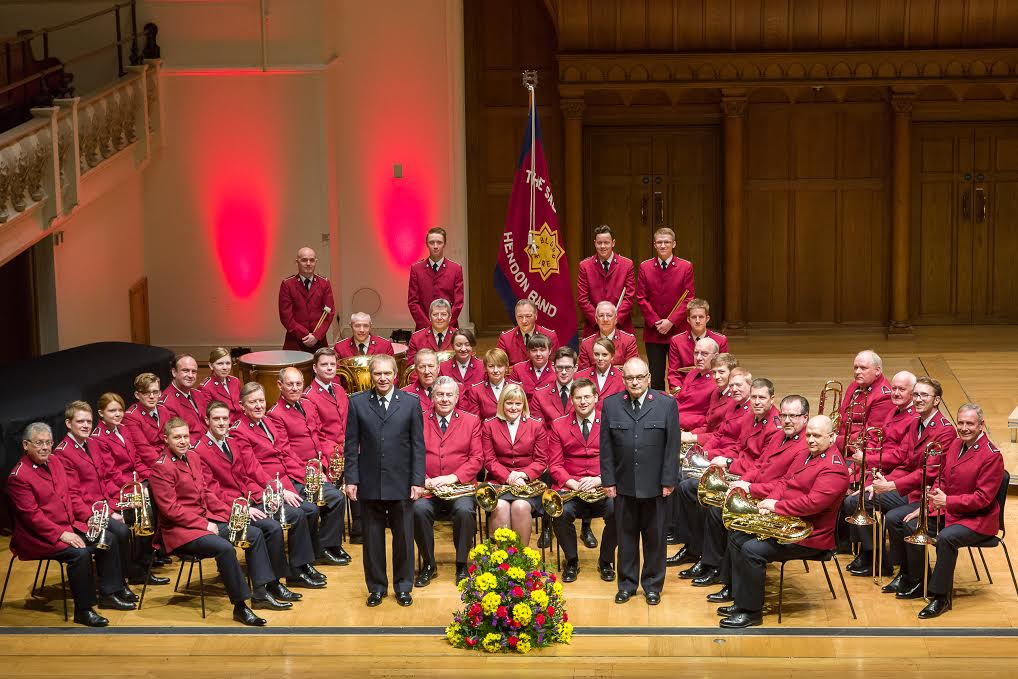 Hendon Band of The Salvation Army
The Hendon Band has long participated in The Mill Hill Music Festival and we are very pleased to welcome them back again to open for us this year. Their world famous 40+ piece brass ensemble is always a delight. The Hendon Salvation Army Band was formed in 1882 with the purpose of assisting with worship and to hold 'open air' services. Their purpose is still the same today, although the band now play in countries all over Europe as well as in Canada and America. Renowned worldwide for their capacity to portray symphonic classics, The Hendon Band of the Salvation Army, under the leadership of Dr. Stephen Cobb, will be playing from their large repertoire of brass, contemporary swing and classical pieces.
https://www.facebook.com/hendonsaband
Later @ The Adam & Eve with Emily Lee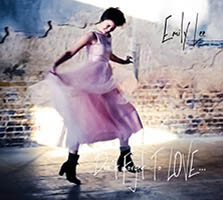 Emily Lee
Time: from 8.30pm
From 8.30pm. The Adam & Eve Pub, The Ridgeway, Mill Hill, NW7 1RL From 8.00pm. We have the pleasure of presenting Emily Lee, a razor-sharp firebrand singer-songwriter with a penchant for soulfully delivered performances and artful songwriting. She is a stand-out performer on the London music scene. Having picked up a guitar four years ago, Emily continues to thrive as a musician, writing songs and collaborating with some of the finest musicians in the UK.
Food served (steak night). Free entry.
Saturday
Jun

e
17 -
Time: 7.30pm
Showtime with The BBC Elstree Concert Band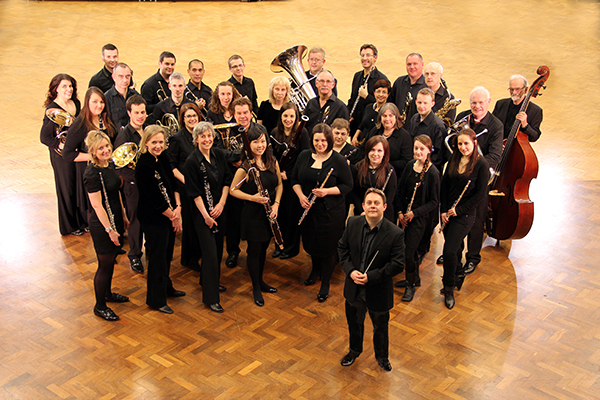 Join us for a showtime celebration of music from some of the greatest and most successful stage shows and films ever written. Full of well-known, toe-tapping numbers, the BBC Elstree Concert Band will take us on another dazzling and fun journey through some of the most popular songs and tunes from stage and screen. Formed in 1984, the 40+ piece band has a repertoire of light classics, show music and contemporary wind instrument arrangements. Their performances have been broadcast both nationally and internationally through the BBC World Service. They have given concerts in aid of The Voice of the Listener Trust, North London Hospice and several other charitable organisations as well as further afield in France and Belgium. This exuberant concert will highlight the very best of showtime entertainment.
http://bbcecb.weebly.com/
Enrico Tomasso's Hot Jazz Quartet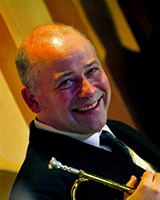 Enrico Tomasso
The Adam & Eve Pub, The Ridgeway, Mill Hill, NW7 1RL [Map]
The ever popular Enrico Tomasso brings his poll winning trumpet playing (four times winner of British Jazz Awards) and engaging vocals for a lunchtime of hot jazz on a summer's afternoon. A firm favourite with festival audiences and Mill Hill in particular where he has appeared over the years with Campbell Burnap's band, Mr Acker Bilk's Paramount Jazz Band and at our last Festival, in the 100 Years of Jazz concert. His biggest inspiration was Louis Armstrong whom he played for as he walked off the plane in 1968 for a stint at Batley Variety Club. Louis took the seven year old Enrico under his wing for two weeks, inviting him as his personal guest every night and giving him advice. Come and enjoy a wonderful afternoon of jazz at this delightful pub in the heart of Mill Hill. Enrico always brings a joie de vivre to any occasion and on this Father's Day we can be sure that the quartet will provide some terrific hot jazz for this special occasion playing, as Louis would say 'some of the good old good ones'.
Food served. BBQ weather permitting. Free entry.
Monday
Jun

e
19
- Time: 7.30pm
Balalaika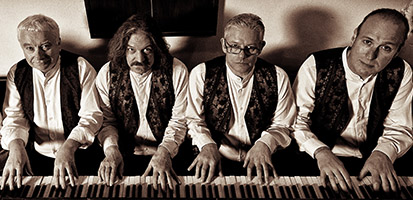 Balalaika
For over 20 years, the Festival has been drawing from all corners of the musical world and you might say that it has become a tradition for our evening of klezmer. Tonight's band is comprised of Justin Bateman, one of the few balalaika players performing in Britain, Nigel Austen on bayan (a Russian accordion), Adam Gaiman on acoustic guitar, and Rich Baker on bass. Together with their guest muscians they will take us on a journey back to the routes of klezmer. Traditional gypsy tunes, haunting melodies from The Steppes, waltzes, tangos, stirring Cossack numbers from old Russia and Eastern Europe are all part of their repertoire. All making for a not-to-be-missed night of spontaneity and movement.
Tuesday
June
20
Time: 7.30pm
Cimarosa's The Secret Marriage (Il matrimonio segreto)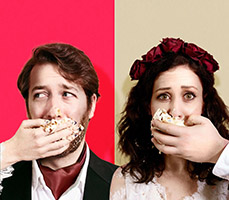 Pop-up Opera is an innovative touring opera company dedicated to making opera enjoyable and inviting for all. Tonight's performance is directed by Max Hoehn; winner of the 2015 Independent Opera Director Fellowship and nominee for 'Best Young Director' at the 2016 International Opera Awards. One of the most successful comic operas of the late eighteenth century, Cimarosa's Il matrimonio segreto is about following your heart and makes for a perfect summer opera filled with humour, sparkle and fun. The opera's story is about a rich Italian businessman's attempt to marry off one of his daughters to a mad English toff with disastrous results. Packed with tunes and matrimonial mayhem, the opera's premiere in Vienna was the occasion of the longest encore in operatic history; Leopold II was so delighted that he ordered supper served to the company and the entire opera repeated immediately after!
"I honestly cannot imagine anyone, of any age or class or tastes, who would have been bored or unmoved" - The Times
Wednesday
June
21
- Time: 8.30pm
An Evening with Kevin Fitzsimmons @ Mill Hill Jazz Club
From 8.30pm. We are very proud to present this evening's performance in association with Mill Hill Jazz Club by bringing you an evening with Kevin Fitzsimmons, one of the most individual male jazz voices to emerge on the UK jazz scene in recent times. Praised by jazz critics for his naturally swinging vocals, elastic phrasing and engaging, highly personable stage presence, Kevin has several jazz festivals under his belt, a live concert broadcast on Jazz FM and sell-out shows at venues around the UK, including Ronnie Scott's. Long-time fan of Mark Murphy and Mel Torme, London born Kevin is already forging a reputation as a charismatic presence and songwriter of high quality. His debut album was released to national critical acclaim. Expect a vibrant evening from an artist who has managed to create a genuinely unique approach to male jazz vocals.
Tickets: £12 Jazz Club Members (£14 Non-Members) on the door only. Cash bar. Seating limited.
Thursday
Jun

e
22
- Time: 7.30pm
Robert Fowler's Gerry Mulligan Concert Jazz Band
Jazz great Gerry Mulligan is now mainly remembered for his famous piano-less quartets which have become part of jazz history; but in the early 1960s he led an outstanding and unique thirteen piece all-star ensemble that received acclaim from fans and critics alike.
Robert Fowler
, veteran of the Pasadena Roof Orchestra, the Back to Basie and BBC Big Bands, and Humphrey Lyttelton's Band has always been a lover of Mulligan's playing, composing and arranging. This led to his transcribing some of the material from Mulligan's Concert Jazz Band period and about four years ago assembling a group of like-minded musicians to perform the arrangements. Robert shares the writing with trombonist Adrian Fry and the band has played at various festivals around the country to enthralled audiences. The band of top British musicians will be underpinned by the rhythm section of award winning bassist Dave Green and drummer Steve Brown. It is an honour for the Festival to be able to present Robert's talented team of outstanding players. During the course of the evening we can expect to hear magnificent arrangements like Come Rain or Come Shine, My Funny Valentine, You Took Advantage of Me and Mulligan originals such as
Apple Core
,
Walkin' Shoes
,
Motel
and
18 Carrots for Rabbit
to name but a few. Book now for what is certain to be an unforgettable evening of exceptional music.
Friday
Jun

e
23 -
Time: Doors Open: 7.00pm
Mill Hill Golf Club, 100 Barnet Way, Mill Hill, NW7 3AL [Map]
Doors open 7pm, music from 8pm. Our evening begins with the always popular 5-piece cover-band,
Recollection
playing all your favourites from the 60's to present day. Then get ready to dance the night away to the rockingest, rock-steady beat of the
The Silencerz
. One of country's top ska bands, this nine piece outfit will bring the house down with a fun and energetic night, featuring covers of all your favourite ska tunes, along with a selection of originals. Tonight the band will be joined by special guest
Lee Thompson
, renowned
Madness
saxophonist.
Subject to the weather forecast, the event will be open air - if you are coming to the event please bring appropriate clothing as it may get chilly (in the event of rain the music will be indoors).
The Silencerz supported by Recollection
Saturday
Jun

e
24
- Time: from 8.30pm
Party Night With The Alan Warner Band
We continue the party for our final night and move to the Adam & Eve Pub for a night of great music from local guitar legend Alan Warner and his band. They will be playing an exciting mix of rock, blues, pop and West Coast covers plus original songs. Alan is a highly acclaimed guitarist and singer/songwriter who has played with such artistes such as Edwin Starr, Arthur Brown, Phil Lynott, Pluto, Jet Harris and Billie Davis to name but a few. He is also an original member of the hugely successful band The Foundations and played on every one of their hit records including Build Me Up Buttercup and Baby, Now That I've Found You. The band's line-up includes JD on bass guitar and vocals, Roger Nicholas on rhythm guitar, and Pete Stroud on drums. It promises to be a great night out for anyone who wants to see and hear a genuinely live set.
Food served. Free entry.