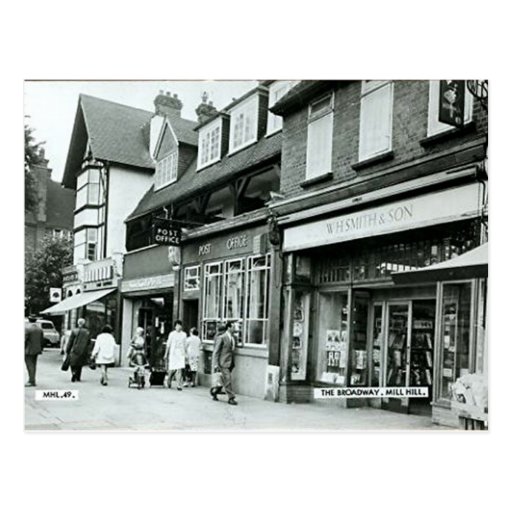 Mill Hill as it was
What sort of a country are we living in? So far this morning has been a profoundly depressing experience. If ever a wake up call regarding just what a horrible world we are building was required, today was certainly one. Let me explain.
When my son isn't playing football on a Sunday morning, I go to mass at the Sacred Heart Church. On the first Sunday of every month, they have a collection for Colindale food bank. This has been held for a couple of years in response to the effects of austerity on our community. The Sacred Heart acts as the hub for collections in Mill Hill. In the Parish newsletter was a request for specific items.
I always make a point of making a contribution. The items required this month:
UHT milk

Long life fruit juice
Soup
Tinned sponge pudding
Tinned tomatoes and other tinned veg
Cereal
Tinned rice pudding
Instant mash
Tinned fish & meat
Tinned fruit
Jam
Biscuits
Snack bars.
For some families, this will be Sunday lunch. Much as I hate the concept of foodbanks the reality is that many families need these to get by. Please consider a donation if you know of a collection. If you are in Mill Hill you can nip in and drop off a donation at any time today.
As if the concept of foodbanks isn't bad enough, the sight of Mill Hill on a Sunday morning was simply disgusting. When I was growing up in the 1960's Mill Hil was a clean and attractive town centre. It seems that Barnet Council thinks that making High Streets into outposts of the council dump is the way to regenerate High Streets. The whole length of the Broadway is cluttered with ugly wheelie bins, stacked to overflowing and even worse, bags of rubbish simply dumped in the street. It infuriates me. My business pays over £10,000 a year in business rates, but the council don't even collect our rubbish. We have to pay a private firm to do that. The. Net result is that the Broadway looks like this. Is it any wonder that young people discard litter, when it seems to be council policy to make the Broadway look like a dump.