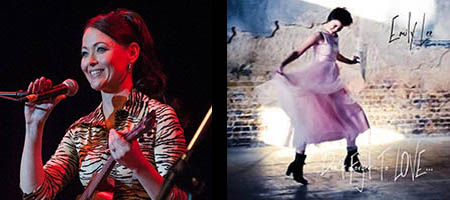 Mick Jaguar and Emily Lee
After 2 years, the wait is over! The Mill Hill Music Festival is back in town, tomorrow, Friday 16th June, and we have some tasty treats for you!
Mick Jaguar is a retro chanteuse who sings and plays ukulele performing polished nostalgic gems - jazz/blues/soul/60s/lounge. Mick's alter ego, Natalie Cooper, has had an illustrious international career in girl groups, jazz and covers bands and is now going it alone armed only with her wacky wit, powerful pipes and that irresistible four-stringed purveyor of musical merriment - the ukulele.. check her out here.
Also appearing is the amazing Emily Lee, a razor-sharp firebrand singer-songwriter with a penchant for soulfully delivered performances and artful songwriting. She is a stand-out performer on the London music scene. Emily did a knock out set at The Mill Hill Christmas Market which inspired us to ask her!
Join us for an evening of great live music. This promises to be a night of great fun! And the music is all Free!
While we are at it, there are still a few tickets left at Mill Hill Wines for the Amazing
Robert Fowler's Gerry Mulligan Concert Jazz Band, don't miss this brilliant show!
More details of these shows and the rest of the programme at The Mill Hill Music Festival website.