So we are at the half way stage of the Mill Hill Music Festival today. Nine days of fun and frivolity! We started on Friday at the Hartley Hall with the Hendon Band of The Salvation Army and at The Adam & Eve with Mick Jaguar and Emily Lee.
— Mill Hill Music Fest (@millhillfest) June 16, 2017
Both events were very well attended and very well received. Saturday night was the BBC Elstree Concert Band at The Hartley Hall.
This was a sell out show and the band got a standing ovation! Sunday was the Jazz Lunch at the Adam & Eve with Enrico Tomasso.
— MillHillMusicComplex (@MillHillMusicCo) June 18, 2017
This was a beautiful afternoon and the garden was packed. It was especially nice to have so many people come up and express their thanks for our efforts.
Last night was the Klezmer at The Mill Hill Synagogue, with Balaliaka and friends. Again the show was packed and Balalaika had the audience stomping along at the end with "Hava Nagila". The band brought along several guest artists to augment the usual four piece line up and gave a fantastic display of musicianship.
Tonight, we have Opera. It is the Pop-Up Opera company, performing The Secret Marriage. It will be your very last chance to see this show! There are still a few tickets left, so try and come along.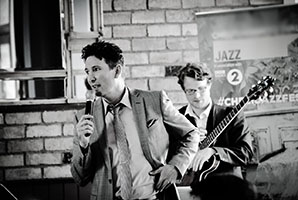 Kevin Fitzsimmons
Tomorrow, we have Jazz at the Mill Hill Golf Club, with
Kevin Fitzsimmons, one of the most individual male jazz voices to emerge on the UK jazz scene in recent times. This is hosted by The Mill Hill Jazz Club. If you've not been to the Jazz club before, why not use this great opportunity to check out a great artist at a great venue. The Jazz club has been running since 1999 at a variety of locations, before settling at the Golf Club. They put on some fantastic artists, so even if you can't make tomorrow, be sure to check them out!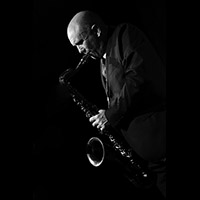 Robert Fowler
Thursday is another jazz event, with
Robert Fowler, veteran of the Pasadena Roof Orchestra, the Back to Basie and BBC Big Bands, and Humphrey Lyttelton's Band. The show is a tribute to
Jazz great Gerry Mulligan, remembered for his famous quartets which have become part of jazz history; but in the early 1960s he led an outstanding and unique thirteen piece all-star ensemble that received acclaim from fans and critics alike.
The band of top British musicians will be underpinned by the rhythm section of award winning bassist Dave Green and drummer Steve Brown.
This show is at the Hartley Hall, and there are still tickets available.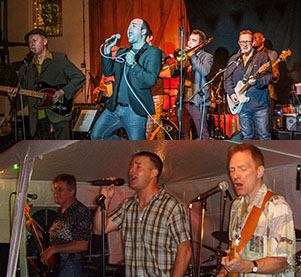 The Silencerz & Recollection
Friday sees a very special event, with The Silencerz and Recollection live at The Mill Hill Golf Club.
Get ready to dance the night away to the rockingest, rock-steady beat of the The Silencerz. One of country's top ska bands, this nine piece outfit will bring the house down with a fun and energetic night, featuring covers of all your favourite ska tunes, along with a selection of originals. The band will be joined by special guest Lee Thompson, the nutty saxman from Madness.
Our evening begins with the always popular 5-piece cover-band, Recollection playing all your favourites from the 60's to present day.This promisies to be a fantastic night and there is a barbeque as well, just in case you feel a bit peckish.
Alan Warner
The festival closing party is at The Adam and Eve, with
guitar legend Alan Warner and his band. Alan made his name as a founder member of The Foundations, formed in the 1960's and still regularly played on the radio today, with hits such as
Build Me Up Buttercup and Baby, Now That I've Found You.

They will be playing an exciting mix of rock, blues, pop and West Coast covers plus original songs.It promises to be a cracking end to a brilliant festival!
The festival happens every two years. It is run on a not for profit basis by volunteers. We aim to bring you high quality music, from top musicians, as well as giving local artists an opportunity to play. Some of the events are ticketed and some are free to enter, so everyone can join in the fun. the Festival is supported by Mill Hill Music Complex, who supply PA and sound systems free of charge. We firmly believe in supporting artists and musicians and all artists are paid for their performances.