So we've reached the penultimate day of the Mill Hill Music Festival. Where does the time go? So far, the ticketed events have all been well attended. All of the ticketed events have been well attended and artistically amazing. By my estimates well over 1,000 people have so far attended the events, with two days to go. Last night we had Robert Fowler's Gerry Mulligan Jazz band. If Jazz is your thing, then this would have you swinging. The night finished with a standing ovation and a very well received encore. It was a long old day for me, we started at The Mill Hill Golf Club, preparing for tonight's extravaganza at The Mill Hill Golf Club. We had staging to sort out. I was up there at 8:30am. I clocked off from Hartley Hall at 11:30pm. It's just a shame that it is voluntary work! Anyway, here's whats left in the programme. There are still a few tickets left for tonights gig and it will be fantastic. The Silencerz featuring Lee Thompson are one of my favourite bands and are supported by a fantastic 5 piece cover band, Recollection What better way to watch them than with a beer and a barbeque in a fantastic setting.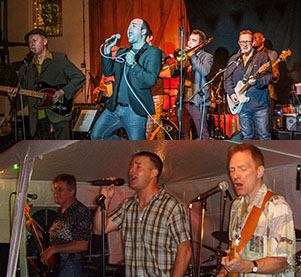 The Silencerz & Recollection
Today. The Silencerz and Recollection live at The Mill Hill Golf Club.
The Silencerz will be joined by special guest Lee Thompson, the nutty saxman from Madness.
Our evening begins with the always popular 5-piece cover-band, Recollection playing all your favourites from the 60's to present day. Recollection are a great band. One of my oldest mates, Gerry Keane is the guitarist. I first met Gerry aged four in "The Baby Class" at St Vincents Infants School. We both then progressed to Finchley Catholic High. We both play blond strats! Gerry is also a festival organiser and without him, nothing would happen. So please come along early and support them. They really are great.
Alan Warner
Saturday. The festival closing party is at The Adam and Eve, with
guitar legend Alan Warner and his band. Alan made his name as a founder member of The Foundations, formed in the 1960's and still regularly played on the radio today, with hits such as
Build Me Up Buttercup and Baby, Now That I've Found You.

They will be playing an exciting mix of rock, blues, pop and West Coast covers plus original songs.It promises to be a cracking end to a brilliant festival!
The festival happens every two years. It is run on a not for profit basis by volunteers. We aim to bring you high quality music, from top musicians, as well as giving local artists an opportunity to play. Some of the events are ticketed and some are free to enter, so everyone can join in the fun. the Festival is supported by Mill Hill Music Complex, who supply PA and sound systems free of charge. We firmly believe in supporting artists and musicians and all artists are paid for their performances.
And finally, as it's Friday and we're at Mill Hill Golf Club, here is todays Friday Joke, with a Golfing Theme!
Two golfers on the first tee, one of the golfers notices that the other isn't playing his usual brand of golf ball.
Golfer One."What's that your playing with today?" he asks.
Golfer Two"Oh its the new volko golf ball".
"If you hit it into the trees, a little red flag pops out so its easy to locate".
"If you knock it into the water, it floats to the top and a flashing red beacon helps you to see where it is".
"If it goes in the rough it emits a buzzing sound so it can be heard at a distance"
"If you knock it into the sand, it vibrates upwards so it's easier to spot"
Golfer One "Wow, it sounds amazing, where did you get it?"
Golfer Two "OH, I FOUND IT"