The goose is getting fat,
I have to confess that with every passing week, I am seeing less and less on Twitter that is interesting or revealing. There are still some gems there, the #Thisisnotamosque thread has been hilarious for instance, but generally I find nothing more boring than people saying exactly what you expect them to over and over again. I find myself looking at twitter less and less and when I do, I see less and less of interest. I don't think I actually saw a single tweet all week from Barnet that actually warranted inclusion in this list as I went throughout the week. I just looked through my activity for the last week and I didn't do a single retweet on the grounds that I thought "Thats a blinding tweet, I must share that!". Of course there are plenty of people I don't follow and plenty of tweets I missed, so in the service of the people of Barnet, here we go.
1. Tweet from the Deputy Leader of Barnet, linking to his latest blog which is perhaps the strangest blog I've read from anyone in Barnet. Mr Thomas seems to be saying that because his grandad was a Cherokee native American, we should quit the EU????? It is worth reading for the amusement value.
2. Did you know that Mill Hill is developing a reputation as the world centre for winemaking? Nope, neither did I until Sean Eatherden enlightened me.
Discovered this London secret today. The hidden vineyard of Mill Hill.
3. Hendon Parliamentary wannabe Andrew Dismore breaks the news that the London Borough of Barnet is paradise (if you are a burglar).
4. How can you be the Mayor of London if you can't tell your Brents from your Barnets - Pukka Punjabi is none too impressed with Tess of the Jowells
5. Now this is more like it ! The sort of tweet we want more of. Funny and well observed.
#bucks Totteridge

traffic chaos expected to be eased tomorrow morning: The traffic bedlam that hit the Totteri...

http://

bit.ly/1yhzFij
6. Jack Cohen yet agains shows why he's Barnets best councillor, helping to secure a £50K grant for his ward.
7. Want to see the Mayor of Barnet in all his bling? Here's your chance
Mayor will be switching on seasonal lights in Edgware at 6pm Tues 2nd Dec from in front of Broadwalk. Will be collecting for his charities.
8. Hilariously stupid tweet from Ed Millinbans about visiting a school in Finchley. Look at the faces of the girls sitting in the rows behind him. They look as if they'd rather be undergoing root canal surgery.
Just did a brilliant Q&A with students at Wren Academy in Finchley. They knew their stuff.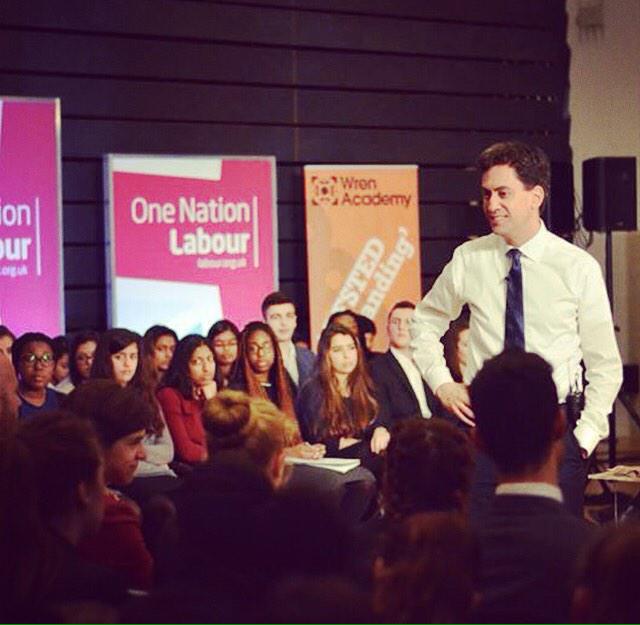 9. And while we're on the subject of spectacularly stupid tweets from Labour Leaders, try this one from Alison Moore, leader of the Labour party in Barnet Council. She is slagging off the Tories for budget cuts. Tell me Alison, didn't you instruct the local Labour group to pass a budget for exactly the same amount. Do you really think we are that stupid Alison?
Passionate defence of libraries at East
Finchley
Library consultation by residents this evening and opposition to
@
BarnetTories
cuts.
10. And proof that if you live long enough, you'll see everything. The five words I never thought I'd hear uttered !
So there you go. Believe me finding ten tweets to amuse and entertain you this week has been a monumental task. There are some out there. Let me send a little message to our political elite, both Tory and Labour. Please keep posting these stupid tweets, it means that we can at least give our readers a laugh. There are decent Politicians around. Andrew Dismore is hard working and on the case, which is why his tweet was included. Jack Cohen is the sort of bloke every ward deserves to have and the fact that as a Lib Dem he survived the cull in May is testament to just how good he is. Sadly as Dan Thomas, Ed Milliband, Jowelly Tess and Alison Moore seem to prove, common sense amongst politicians is an ever diminshing commodity.
Have a lovely weekend. I'm off to a special screening of "The Empire Strikes Back" today. Then it's down to the Excel centre in Docklands to see Dereck Chisora, who trains in Mill Hill, fight Tyson Fury.