I must say that there are some lovey tweets this week. Without further ado.
1. I am jealous, I never did this at school
@
Wren_Academy
students get a view of the Radcliffe telescope in
Mill Hill
@
Wren6th
2. The lovely Sarah Burr doesn't sound too convinced, does she?
3. David Arditti is rather interested in the new road layout in Colindale
Colindale
4. The junior doctors were on strike this week at Barnet General
http://
fb.me/4oR7QgHp2
5. Rather strangley, The Finchey and Golders Green Labour Party are helping Zac Goldsmith promote his housing policy????
F&GG Labour Party Retweeted Dave Speck
@
ZacGoldsmith
plan for more affordable homes in
Colindale
- starting at £420k for a two-bed flat >>
Zac has no idea of pressures on ordinary families

http://

barnet-today.co.uk

@SadiqKhan @Andrew_Dismore @brilliantname
6. Rather like this one from one of our regular to tweeters
@
kategilson
I take snaps of
@
LLPasture
each year to produce fund raising calendar. Running out of new subject ideas.
7. Rules are made to be broken! Nothing to do with Barnet, but how could I possibly not include this one!
Best of British would like to wish you a happy
#
PancakeDay
Hope you can toss a pancake better than this dog's owner!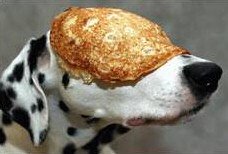 9. JennJ is delighting in the wonders of walking the Totteridge Valley. We say good move!
10. The sun sets on this weeks tweets of the week!
Sunset yesterday over Mill Hill Music Complex, the studio with the best location in London#