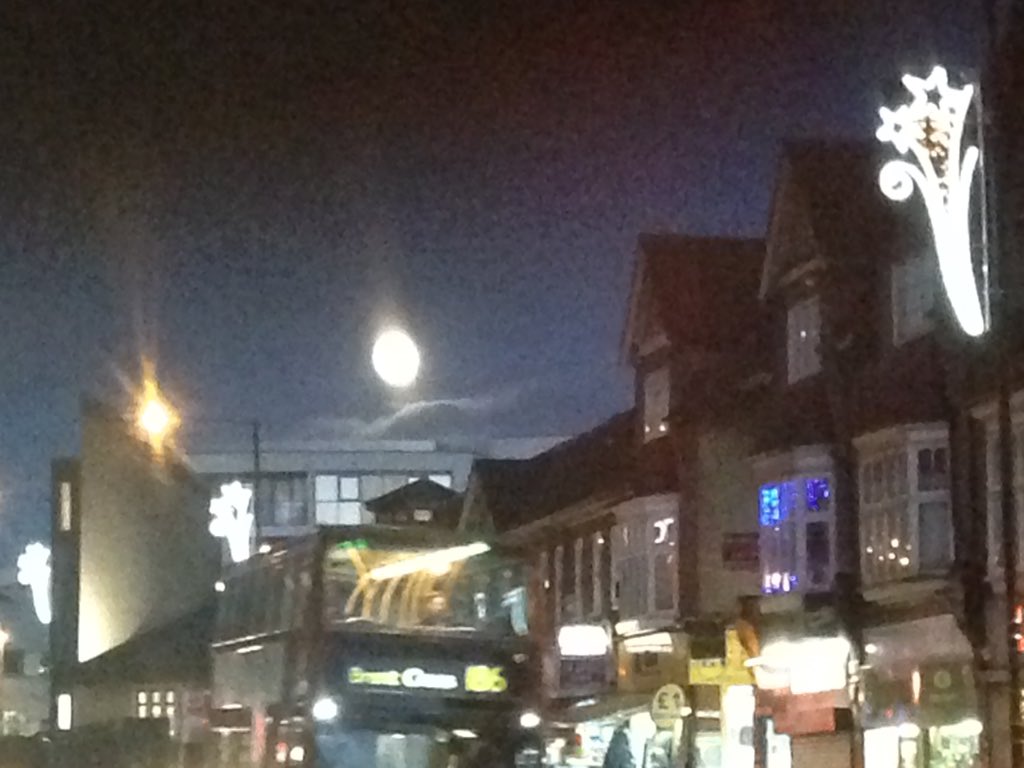 'They say there's always magic in the air on (Mill Hill) Broadway'
May I take this oppportunity to wish all of my friends, family and readers of the Barnet Eye a marvellous and peaceful Christmas. Whatever your faith, or lack of it, I hope you have a lovely day and whatever wishes you may have had for Christmas are granted.
As is the tradition in my family, we attended the Childrens mass at The Sacred Heart Church in Mill Hill yesterday. The picture at the head of this blog was what I thought was a rather magical scene as I walked to the Church, A full moon rising over the Sacred Heart, the lights and a no 186 London bus on the way to Brent Cross. Maybe this rather blurry picture sums up what Christmas is in 2015. As you can see, the Church has been rather dwarfed by the new flats on the corner of Hartley Avenue. The £1 shop is still open and doing a roaring trade and the bus makes its winding way towards the palace of mammon that is Brent Cross. But despite all of this the rising moon lends a magical quality to the scene and reminds us that our little corner of London is really only a very tiny little sea of tranquility in a turbulent world.
I love the childrens mass at Christmas. The singing of carols and the telling of the story of the nativity is always rather special. It does no harm to also be reminded of those who are not quite so lucky in the world. Fr Kevin reminded us of those who are mourning, suffering and of those loved ones who have passed on in the last year. For many of us Christmas is the time of year when we feel such losses most acutely. We were urged to say prayers for those suffering in the Middle East and the refugees displaced across our continent. Whatever your beliefs of lack of them I am sure you will agree that those of us in rich Western nations have to some degree failed these people. I wonder if we'd spent just 10% of the money we spend on bombs on Universities, medicines and food for the poor, whether the hard hearted militants would hate us quite so much?
There is much talk of the Spirit of Christmas? Well what is it? Christmas symbolises birth and change. Whatever you think of the story of the birth of Jesus, there are a few lessons anyone can take (even if you don't believe the story).
1. Jesus was born out of wedlock. Joseph was not his biological father, but he accepted him and treated him as his son. He comes out of the story with a lot of credit. We should all show a bit of his tolerence and forgiveness. Did he doubt Marys story? He clearly loved her and that was enough.
2. Jesus had to flee Bethlehem for fear of persecution. When we criticise "ASYLUM SEEKERS" maybe we should consider the beginnings of the man who founded the state religion in the UK. Every time you slag off an asylum seeker, you are slagging off Jesus Christ as well (and for you atheists, that doesn't let you off the hook, we all need to be decent people).
3. Three wise men travelled "from the east" to visit the scene of the birth. We all have to "follow our star". If we have to do something, even if the journey is perilous, we must see it through.
4. The Sheperds on the hill also bore witness to the birth. I draw great consolation that the man who many believe to be the messiah was born witness to by ordinary blokes as well as Kings from the east. We all matter.
5. And perhaps the biggest one. Mary and Joseph were given shelter in a barn, where Mary gave birth. An act of small kindness by an innkeeper. Do we have a barn in our hearts, where we can give someone a little bit of shelter to someone who needs it? For the last year I've volunteered at a homeless centre. Is it right that 2,000 years after the birth in a barn of the man who founded our state religion, that people still have to sleep in barns, parks and doorways.
For each and every one of my readers, I'd love to give you all a special Christmas Present. As a musician and a music lover, here is my gift. To me this is perhaps the song that sums up the true spirit of Christmas. I hope you enjoy it.
A world that has given us Billie Holiday cannot be all bad, can it?
Merry Christmas