One of the reasons I have always loved Mill Hill is the green belt, the peaceful areas and our ponds and lakes. Back in 2012, I made a list of
the ten best waterways in the Borough of Barnet
. Number five on the list was
Darlands Lake
. At the time I said
Darlands Lake as it was
5. Darlands Lake. When I was at St Vincents school on the Ridgeway, we would occasionally do "nature surveys" at Darlands Lake. This is a large lake between Mill Hill and Totteridge. It is beautiful. It used to have a boating hut and pier, but this is long gone. Sadly few in Mill Hill even know of its existence. It is well worth a trip
At number 9, was the picturesque Angel Pond at the top of Milespit Hill. I said this of it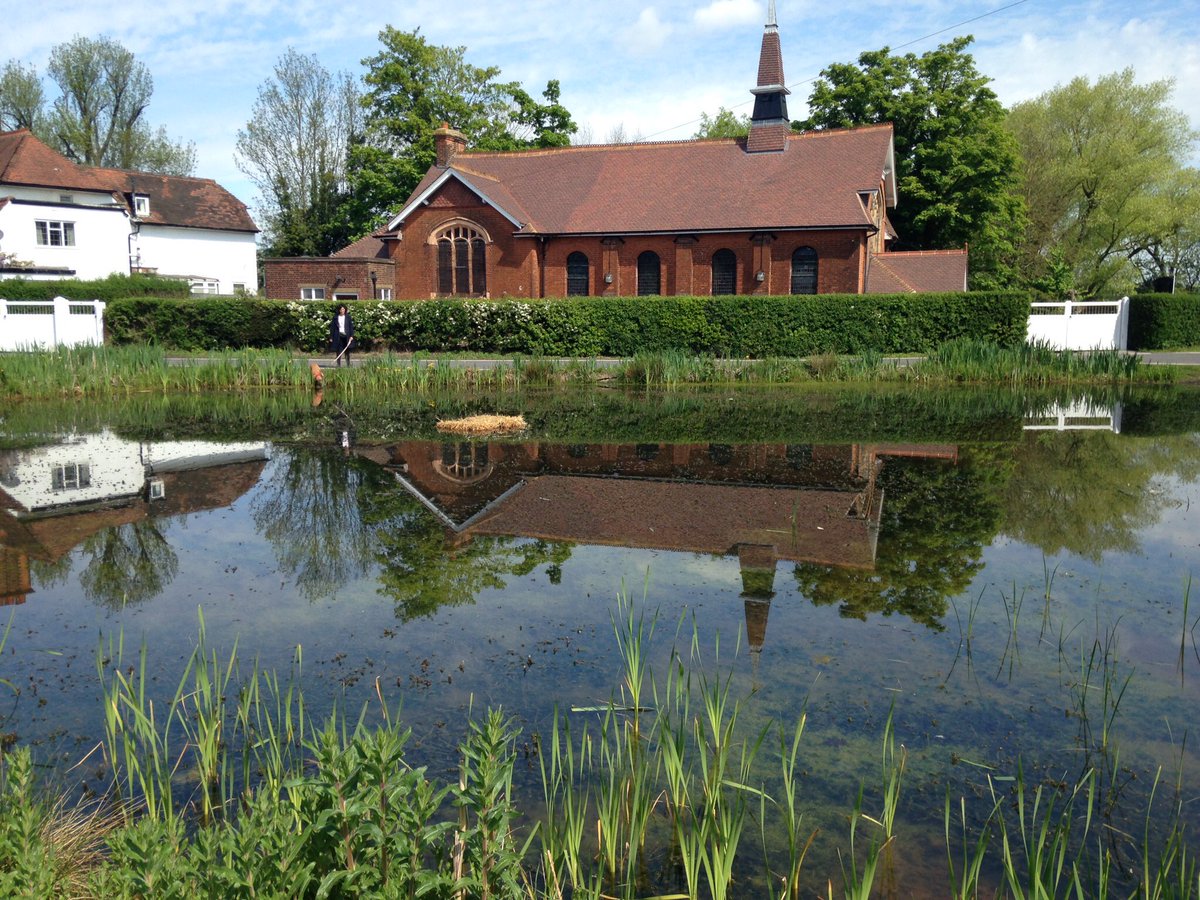 Angel Pond in 2016
9. Angel Pond. This is the most picturesque pond in Barnet, it is located at the top of Milespit Hill, with an old brick church as its backdrop. As a child, I'd walk past it on the way to and from St Vincents school. I was always fascinated by the tadpoles, sticklebacks and goldfish that lived there.
.
Sadly if you took either of these pictures today, you'd be greeted with a totally different sight.
Yesterday the team at "A Better Mill Hill" tweeted this picture.
— A Better Mill Hill (@ABetterMillHill) July 16, 2018
As you can see, Darlands lake is silted up and dried out. This lake is used as a summer watering hole for all manner of local animals. It used to have a population of carp of reasonable size. Last year I wrote a couple of blogs detailing
a scheme to set up a trust to manage Darlands Lake
.
Darlands Trust details
The papers around this admitted that the site had been left to go to rack and ruin over 20 years. The justification seemed to be that no one else could do a worse job than Barnet Council in protecting the nature reserve. It seems that since then, nothing has happened with the proposal to sort the situation out. Even more alarming, the lake has dried out so presumably the fish have died. I walk around the site most days, I can only believe that our councillors do not visit this part of Mill Hill to allow this situation to reach such a point. The bottom line is that a site of significant importance for biodiversity in the Borough has deteriorated to the point where it is simply a large, smelly mudpit.
Then there is Angel Pond. This used to be the Jewel in the crown of Mill Hill. Any book, postcard or other image of Mill Hill would have a picture of Angel Pond, usually with the picturesque reflection of the former Methodist chapel (now the Brotherhood of the Cross and the Star)
This is how it looks today, as pictured by the team at A Better Mill Hill.
— A Better Mill Hill (@ABetterMillHill) July 17, 2018
This is a slightly different issue to Darlands. The pond has been overrrun by an invasive weed. A guest blog by
Aquatic expert Laurance Bard detailed the issues in October 2016
. What is 100% clear is that we need urgent action to sort the issue out. We need the pond restoring to its former glory. Mr Bard suggested that an aquatic expert should build a plan to save the pond. It appears that his call was ignored. The time has come to sort this out. Barnet Council should get involved as the smell is becoming an issue for residents.
What is clear is that Barnet has no strategy for managing important wetland habitats in Mill Hill. Last week, the Council convened a meeting of the urgency committee to sort out issues with the licensing of the Town Hall for wedding ceremonies. I would like to see it reconvened as a matter of urgency (pardon the pun), to develop an urgent strategy to save our wetlands.
The issue is too important to become an exercise in blaming anyone. Lets just sort these issues out. I have written to Councillor Cornelius to request this.
Here is the text of my email
---
Dear Councillor Cornelius / Cllr Thomas,
I am not sure whether you are aware of the appalling state of two important wetland sites in Mill Hill? I am referring to Darlands Lake and Angel Pond in Mill Hill.
Darlands is a site of significant environmental importance. It is currently completely dried out. Presumably this has resulted in the death of all of the fish and also deprived local wildlife of and important watering hole.
Angel Pond is the jewel in the crown of the picturesque Mill Hill Village High Street. It has been overrun by an invasive plant species and is virtually completely dried out, again killing fish and depriving the ducks of their habitat.
I am not seeking anything other than an urgent plan to restore both important Barnet open water spaces, to preserve local wildlife and ecosystems.
I would suggest engagement with local organisations, Preservation society, Neighbourhood forum and Residents Association. I would be fully supportive of any crowdfunding initiative to carry out emergency works.
I have cc'd local individuals and stakeholders who I believe may have an interest in sorting this out. As a community we need to pull together to resolve this.
I trust you will treat this request as a matter of utmost urgency (excuse the pun)
Regards
Roger Tichborne
.