I was thinking of the great support bands that I've seen over the years. It's funny because the first gig I went to was to see Wings on the Red Rose Speedway tour. I went with my Sister Val, a bit of a hippy, who told me that she never bothered with support bands, because usually they were rubbish. We caught a bit of Brinsley Schwarz, I don't remember too much about them, which is a shame because there were some great musicians in the band who went on to better things. When punk hit the scene, often it was the support bands that really made it worth going. I realised that dodging support bands was not a good move. The first punk band I went to see was the Ramones at the Roundhouse. The support bands were The Talking Heads and The Saints. Both were OK, but the Ramones were so completely mindblowing, I didn't really walk away with any strong image of them. Perhaps the next gig I went to at the Roundhouse was the one which completely sold me on support bands.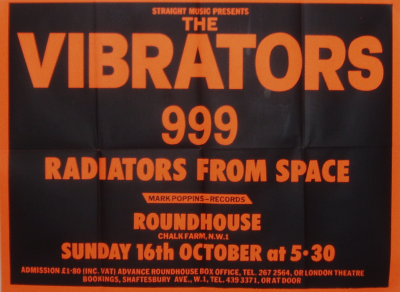 1 . 999 supporting The Vibrators at The Roundhouse. The Vibrators were my favourite band, I'd been waiting to see them since the day I got the punk rock bug. The Roundhouse on a Sunday had replaced church on a Sunday for me. This was the one. The Radiators from Space were a decent band, but 999 were awesome. Nick Cash climbed up on the PA stacks, nearly toppling them on the crowd. There was so much energy and aggression in the music, that you couldn't help but be transfixed. 999 instantly became one of my favourite bands. To this day they are amazing.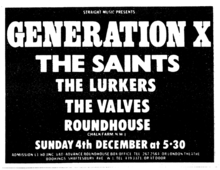 2 The Lurkers supporting Generation X at the Roundhouse. My sister Caroline got tickets for this gig from a guy called Chris at Generation X's label. I was quite pleased to see the Saints again, who were always good value for money, but the band that really made an impression were the Lurkers. I thought they were Fulhams answer to The Ramones. The music was fast and furious, just how I liked it. The band looked like a bunch of blokes from the bus stop and to me epitomised what punk rock was all about. I was desperate to get their album, but I have to admit, when I bought Fulham Fallout it made me realise that some bands were better live than on record.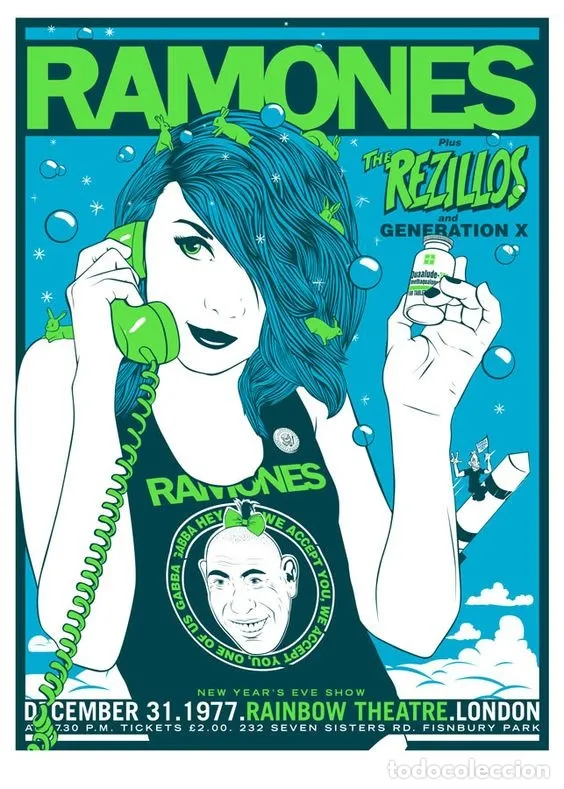 3. The Rezillos supporting The Ramones at The Rainbow. This was how I ended 1977. The Ramones performance was recorded and filmed. They were amazing as ever. But the Rezillos, a Scottish new wave band made a huge impression. Their lead singer Faye Fife was a brilliant front person. The band were quirky and played brilliant pop songs. Their albums are well worth a listen.
4. Squeeze supporting Eddie and The Hot Rods at The Lyceum. I loved Eddie and The Hot Rods. I knew Squeeze from 'Take me I'm yours' which had made the lower reaches of the charts. It wasn't until I saw them I realised that there was far more to them than that. They are brilliant songsmiths. I've seen them dozens of times since, but I have great memories of them from that night. An interesting footnote was that there was real bad blood between them and The Radio Stars. During their set, The Radio Stars made repeated quips about the lack of success Squeeze were having. As I recall they even performed a song about how rubbish Squeeze were. Funny how things turned out.
5. The Specials supporting the Damned at The Lyceum. I love The Damned. They are always one of the best live bands you will see. At the bottom of the bill, somewhat incongruously beneath The UK Subs were the Specials. There was a bit of a buzz about them, but until this point it had passed me by. As a kid, I'd loved Ska music, but it had disappeared and I'd sort of forgotten it. The Specials came on stage. There were more of them, more instruments than any band I'd seen in a long time. They were multi racial, whereas just about every punk band was white. From the first notes of the first song, I knew that they were something Special (pardon the pun). They reignited my interest in Ska music at that point.
6. Misty in Roots supporting The Vibrators at Rock Against Racism festival in Stonebridge Park. This event seemed to pass everyone by. We turned up expecting tens of thousands of people. There were about 500. Our mates, The Ruts were playing their first gig. We'd got to know guitarist Foxy from 999, where he did a bit of Roadie work. Misty in Roots, were the main support. I quite liked Reggae and had seen a few bands, but the performance by Misty was amazing. I was absolutely transfixed. They were far more political than most Lovers Rock bands. I really liked their powerful delivery and their uncompromising stance. I couldn't find a single image of this anywhere. It was almost the Gig that time forgot. I bumped into a mate from Finchley Catholic, who had been slung out for throwing a meat cleaver at the Archery Teacher. I had also left the school and we compared notes on how unfairly we'd been treated. His gripe was that he'd missed when he threw the meat cleaver. We both sat transfixed watching Misty in Roots. He told me after that it was the moment he got reggae, which in the long run made him a lot more chilled out.
7. Big Audio Dynamite supporting Simple Minds at Milton Keynes Bowl. I nearly didn't go to this gig at all. It was on the day England played Argentina in the World Cup, and Maradona scored the famous hand of God goal. I'd bought tickets months before. It was only because they were so expensive that I went. Clare accompanied me along with a Welsh and a Greek mate. I was vaguely aware of Mick Jones and Big Audio Dynamite, but hadn't really bothered to check them out. I'd mistakenly assumed it would be a sub Clash rehash. It was anything but. BAD became my favourite band of the 1980's. I will go as far as to say, I prefer them to The Clash. They really are the sound of West London. Hearing E=MC2 echoing out over the park was a sublime moment. It almost made up for the disappointment of losing.
8. Joe Cocker Supporting The Stevre Miller Band, Concorde, California. We are now in 2008. I was on holiday with the family and my Mum passed away unexpectedly. I'd arranged the hioliday around this gig, we'd planned it for ages, but I was devastated. The gig was they day after she passed away. I was all over the place. I've long been a fan of the Steve Miller Band. They are always brilliant, but Joe Cocker was a revealation. A wonderful night that lifted my spirits at a point when I was at my most down.
9. Kate Nash supporting The False Dots at Mill Hill Sports Club. Kate is the daughter of one of my mates. She started putting some songs together and getting a bit of interest. I suggested that she support my band, The False Dots at The Mill Hill Sports Club for a gig for MacMillan Cancer relief that I was organising. Kate's mum had had a brush with cancer and she was really keen to do it. Then she got signed and her management told her she couldn't play the gig because she had a showcase coming up and they didn't want potential fans going to a little local gig instead. Kate told them to get stuffed and brought all her family, old aunties, etc. What we saw was the star quality that would propell her to a top ten career. I admired her gutsy approach. She wanted to do the gig so she did. Six weeks after the gig, she was in the charts and on TV.
10. The Lightning Seeds supporting Madness at Sheffield. A couple of years ago I was chatting to Lee Thompson of Madness at the studios and mentioned that a friend had lost her mother recently and was very down in the dumps. Lee said that he'd put them on the guest list if I liked. As they live in Sheffield, we made our way up. The Lightning Seeds were the support. They were not a band on my radar, but I thought they were excellent. When we got back, my friend asked me to tell Lee that it had really lifted her and it was the first time she'd had any fun for a year. Both bands were great. I've seen the Lightning Seeds a couple of times since.
Tomorrow I'm going to Ronnie Scotts to see the first gig since Last March, I can't wait, have a great weekend.