By Richard Wilkinson,
Like many of you, I've been a tad bored in isolation. I found an old copy of an A-Z map of Mill Hill and had a look at some of the street names. They tell an interesting story. I then looked at some more up to date developments. These too are interesting. I thought I'd collate a list of those that caught my eye and where I knew some of the history. I do hope you find this list interesting and informative.
1. Lawrence Street.
This street runs from Mill Hill Circus to Highwood Hill. It used to run the full length of the Broadway. It takes its name from the Lawrence farm. The Lawrence family lived in Lawrence farmhouse, now on Goodwyn Avenue and an office block. It was a dwelling well into the 1970's.
Hiding behind Mill Hill Circus in Goodwyn Avenue is Lawrence Farmhouse, which in years gone by stood at the foot of Lawrence Street.

For years this 17th century building was unloved and derelict. Eventually it was bought, sympathetically restored and now it used as offices

pic.twitter.com/BLXyQYesf8

— 𝐼𝓃𝓈𝒾𝒹𝑒 𝑀𝒾𝓁𝓁 𝐻𝒾𝓁𝓁 (@InsideMillHill) September 13, 2019
— A Better Mill Hill (@ABetterMillHill) February 4, 2019
2. Bunns Lane.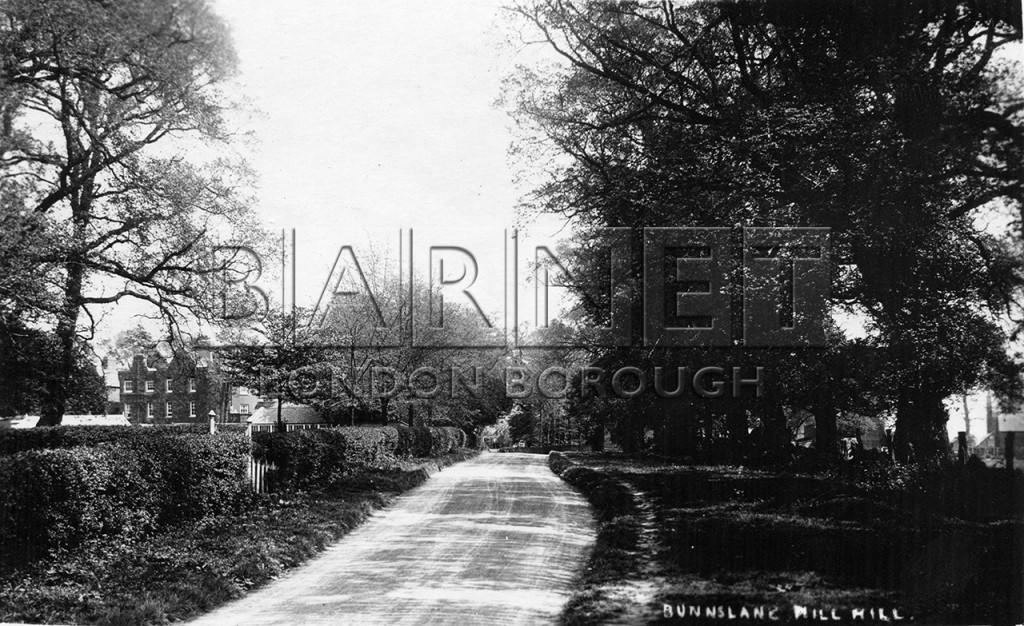 Picture London Borough of Barnet Archive - click for source
Bunns Lane runs from the intersection of Mill Hill Broadway and Hale Lane, to the junction with Page Street. Again the road is name after Bunns Farm, another Mill Hill farming family. Like Lawrence Street, the route of the road has changed, as a bridge over the Mill Hill East to Edgware LNER line was removed in 1974.
This picture from the
Borough of Barnet Archive depicts Bunns Lane in 1920
3. Inglis Way.
This road runs from Bittacy Hill from Frith Lane. It is named after
Sir William Inglis
. The road used to lead into the Inglis Barracks, home of the Royal Engineers. Many of the roads in the Millbrook Park estate have army references. At some point I hope to write a full guide to the history of the site and how it has changed.
4. Victoria Road and Albert Road.
Albert Road runs from Daws Lane to Victoria Road and Victoria Road is off Lawrence Street. The Streets were named in commemoration of Queen Victoria and her consort Prince Albert. Reputedly there was a hunting lodge used by Tudor kings on the site, hence the possible Royal connection.
5. Goodwyn Avenue.
Like many road names in Mill Hill, Goodwyn Avenue is named after the family that originally owned the land. There is a small private school on Goodwyn Avenue called St Martins School. This used to be the site of Goodwyn School that moved to larger premises on Hammers Lane. There is an interesting
history page on the Goodwyn School website that tells the story
.
6. Abbey View.
Abbey View is a small cull-de-sac off Marsh Lane. The name refers to the view of what was formerly St Marys Abbey convent and school by the intersection of Holcombe Hill and The Ridgeway.
7. Nan Clarks Lane.
Nan Clarks Lane is a cul de sac off Holcombe Hill. It is reputedly haunted by the ghost of Nan Clark. The full story of the haunting is told on the rather
good Mill Hill Preservation Society website
(click on the Nan Clark tab).
8. Sylvan Avenue and Woodland Way.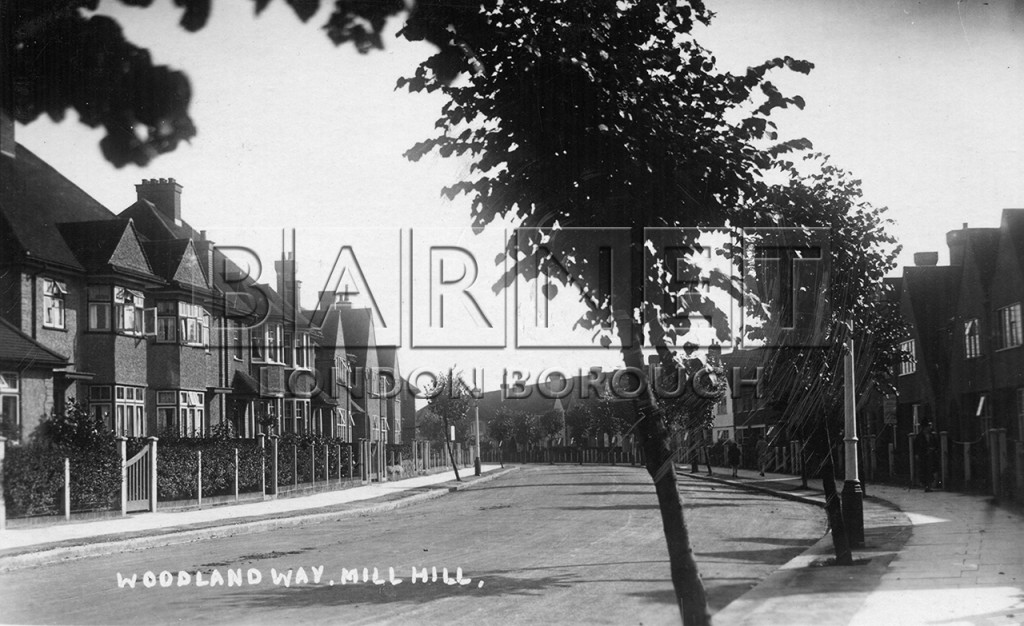 Picture London Borough of Barnet Archive - click for source
Sylvan Avenue is a turning off Flower Lane, and intersects with Station Road and Woodland Way at its other end. Woodland Way is also a turning off Flower Lane. Woodland Way is the route from Station Road to Mill Hill Park. The area was originally woodland.
Sylvan means shaded area
. The close proximity to the Railway meant that the Woodlands was soon developed once the railways arrived.
This picture of Woodlad Way from 1920 is on the
London Borough of Barnet Archive
This map shows how it was starting to be developed in 1910.
9. Cornforth Lane.
This is one of Mill Hill's newest roads, so new it is not open to the public. It is on the NIMR site, currently being redeveloped by Barratts. It is named after
Sir John Warcup Cornforth, who was a leading scientist at the NIMR
. He won a Nobel prize for chemistry in 1979.
10. Langstone Way.
This road is off Bittacy Hill by the entrance to Waitrose. The road is named after former veteran Finchley Conservative Councillor Barbara Langstone, who was also a tireless campaigner for various charities.
This article from the Archer details her achievements
.
When I was putting this together, several things struck me. Very few of our new streets are named after Mill Hill people who have made a contribution to our society. Maybe we should make this a condition of major new planning applications. I'd love to see a Graham Hill Way or a Mcgoughan Street.
There were also some streets with intriguing names that I couldn't track down the origin of. Perhaps top of the list is Engel Park. Which runs off Bittacy Hill and is on the 221 bus route. Engel is German for Angel. I somehow doubt it was named after the famous communist Fredrich Engels. If your street has an interesting name and you know the story, please share it with me by adding a comment.
------------------------------------------------
Richard Wilkinson is a local historian and a regular contributor. Guest blogs are always welcome.