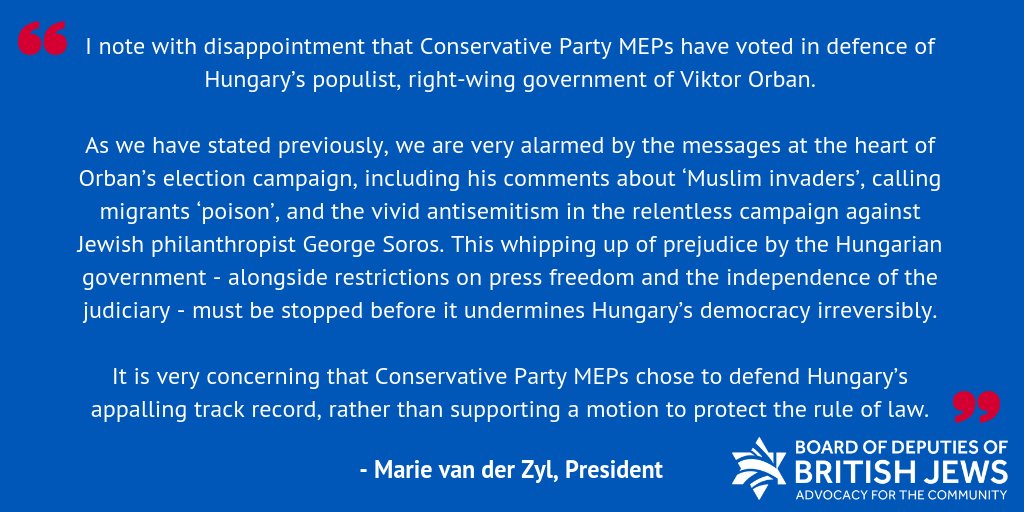 Statement from Board of Deputies of British Jews
We live in very troubling times. The London Borough of Barnet has excellent community relations. I was privileged to be give the task of organising a multi faith memorial service earlier this year, attended by the Queens Lieutenant, The Mayor of Barnet and members of all our faith groups, in memory of shop worker Vijay Patel who was tragically killed in Mill Hill in January. Each different faith gave a reading from their holy books. What struck me was that the message was the same. Work for peace and justice.
Sadly we are living at a time when anti semitism is on the rise. There has been justifiable criticism of the Labour Party for not dealing with issues of anti semitism. What has been completely missed is that the Conservative Party also has a major problem with racism and anti semitism. This was exposed today by the Board of Deputies of British Jews, who roundly condemned the alliance between the Conservative Party and the fascistic government of Hungary. Today the Board released the following tweet.
— Board of Deputies of British Jews (@BoardofDeputies) September 13, 2018
Many of my Jewish neighbours and friends voted Conservative in the Barnet Council elections specifically because thy wanted to send a message to the powers that be that anti semitism is unacceptable. I wonder how those people feel now to find out that the Conservatives are in alliance with a bunch of fascists with openly racist and anti semitic policies, far worse than anything that Jeremy Corbyn has uttered. This is simply inexcusable.
I hope that there will be no attempt to brush this under the carpet. Every Barnet Conservative must hang their head in shame.